(

And I will watch over you as you sleep.Collapse

)



Archive:
1.0, 1.1


---


I failed NaLeWriMo due to classes, but that's okay. Better I fail at Sims than fail at life, lol.
Enjoy this update!


(
Something is amiss.
Collapse
)
Archive:
1.0
---

Here is the next installment of the Nom Legacy.
Enjoy! o uo
(
I do say, this looks like dandruff!
Collapse
)
---

This is my first Legacy Challenge, and it is in celebration of the new year! NaLeWriMo - National Legacy Writing Month - was made for Sims 2 and Sims 3. I don't know who started this, and I haven't found anyone else doing it yet, but I decided to try this challenge myself.

I hope you enjoy it!
And I hope I finish it.
hidden_kitten
. She wanted me to post pictures of the offspring, so here we go! :D
(
All dem plantbabies.
Collapse
)
And that's it. I'm pretty satisfied with their appearances, that's for sure. > u< And I think I'll keep them around Strangetown for more Plant variety. :3
After I encountered Rose Greenman from Riverblossom Hills, I've wanted to customize my Plantsims to make them more appealing. This included downloading a completely new Ideal Plantsim, which I took from
Current Music:

Collapse - Saosin
Current Music:

Earthquake - The Used
Current Music:

Sleepwalking - Bring Me the Horizon
I've been so stuck on Strangetown that I never ventured to other neighborhoods. Actually, when I first started playing the Sims I was always in Pleasantview. But ever since I stepped foot into Strangetown, I never went back. Now I'm looking to see what the other newer neighborhoods are like, but so far I'm not impressed.
I decided to start with the Contrary family as my first DV makeover.
(
Edward, Opal, and Rick Contrary
Collapse
)
Maybe it's just me, but I find Desiderata Valley dreadfully boring. According to its introduction, "Who knows what destiny has in store for the Sims of Desiderata Valley?" Damn straight, who knows, because EAxis decided it didn't want to deal with any of the families.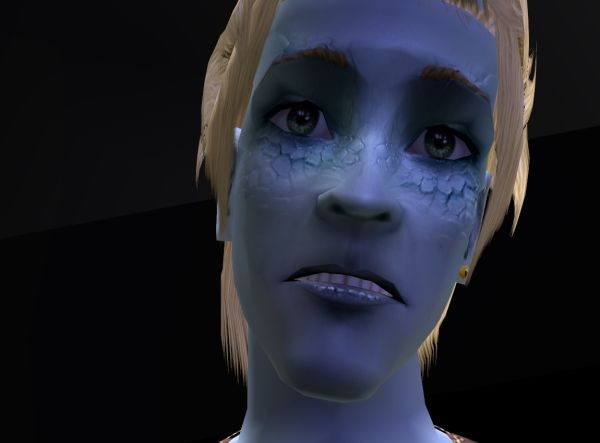 There was an eerie undertone about this place, and the darkness didn't help ease his anxiety. The sound of whispers filled his ears; they echoed about, bouncing off invisible walls, and seemed to amplify for the briefest of moments before fading into silence. He blinked once, twice, and opened his eyes. And Johnny saw.
Although I'm timid about getting my feet wet, I'm hoping fellow Simmers will be welcoming and encouraging. Practice makes perfect!
And a bandwagon photo: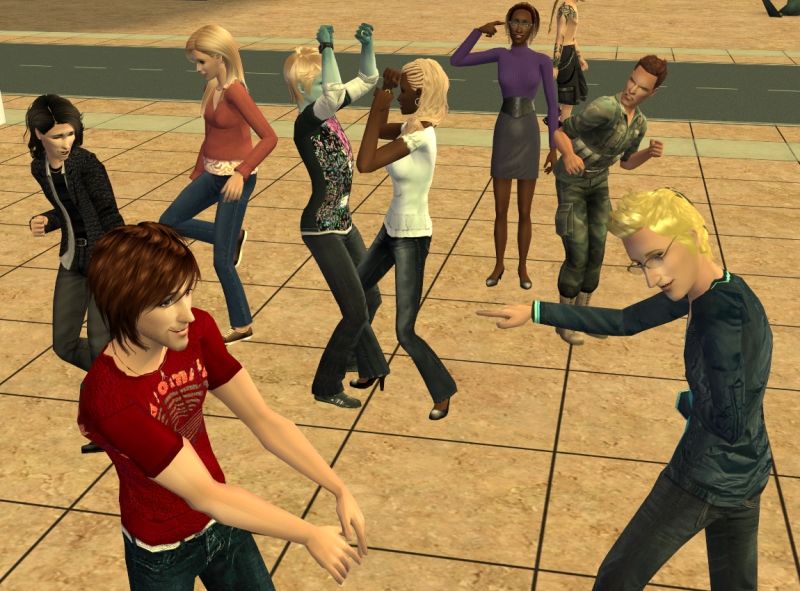 The Strangetown neighborhood that I've already been playing, the majority of these Sims have already started families with the exception of Buck and Jill, who are finishing up their Junior year in college. Jill's looking a little round, isn't she? > u<
From left to right: Frances, Ripp, Jill, Johnny, Ophelia, Melody, Tank, and Buck
Here's to Strangetown!
Oh, how embarrassing. Needless to say, this is my first, poorly reconstructed journal since 2008. My primary reason for rejoining is to be a part of the Simming community. I've been inspired to develop maxis premades and create stories based off these Sims through reading various Sim stories.